Meeting News: We had a good meeting, and discussed upcoming events and have begun planning the next MAIA show. Paul Funk will be reporting back to us on a possible site for the next show. We are looking for as many MAIA members to show up at the show MAY 5 in Winchester, VA. Also we are looking for members with "STOCK" cars to show up and support our friends with the AACA on May 18 in Winchester and again June 22 in Williamsport, MD Charter member Irvin Gish is the contact for the Williamsport show. You may contact Tom for information on either Winchester show. The subject of 1971 - up cars was discussed and a decision was made to allow the members to decide in one of three ways. To recognize A. 1971-1972 B. 1971-1976 or C. Do not change anything. Voting forms will be sent out with the next newsletter. So PLEASE vote. Minutes for the meeting will be available in a few days if you would like a copy.
Great job to everyone who helped plan and execute the car show you all did a fantastic job. Congratulations to all the winners and Bill Spach who ate a record ten hot dogs, (hope you had plenty of Tums for the ride home.
The Hub City Classic Chevrolet Show was a success. Despite the dreary day we still had a decent turn out. It wasn't necessarily quantity but boy did we have quality cars show up. Pictures will be available later this week.
We will also post pictures of the winners cars as well as some new members cars on the website so please check back.
You can now download applications for membership, carshow registration forms and more on the downloadable forms page. It's easy just go to the page find the form you need click and then print.
MEMBERSHIP PACKETS: We are working on getting the Membership packets put together now. We will get them out to members As Soon As Possible. Thank you for your patience.

I would like to thank each of you who have returned your applications for membership. The response has been incredible! Remember if you know anyone else who may not have received this letter send an addresss to us and we'll get one out to them too. For anybody who hasn't returned the letter if you have any doubts or questions about us feel free to give me a call or drop me an email and I'll answer any questions you may have.

Deadline for Charter Membership is 1 Feb 02 so be sure to get your applications to me by that time if you can.

Look for our news release in next months NIA "Impala News".

The first MAIA newsletter is scheduled to come out around the first of February. Members will receive their newsletters around the first of the following Months Feb., Apr., Jun., Aug., Oct., and Dec.

PHOTO ALBUM; Members if you have a picture of your ride(s) and you want it posted on the web site in the photo album send a .jpg format picture via email and I'll get it posted for you. if you can't send it email send it snail mail and I'll scan it and get it back to you immediatly. I'm interested in seeing all these cars.

CLASSIFIED PAGE: If you have any 58-70 related items or acar you need to sell please utilize our easy to use classified section.

COMING SOON!! Resource Information; In the not so distant future you will have the ability to check cowl tags, paint codes, engine casting numbers, and more, right here on our website. Please just bear with me I'm trying to make it 100% accurate so there is no confusion. So keep checking back for more information.

God Bless!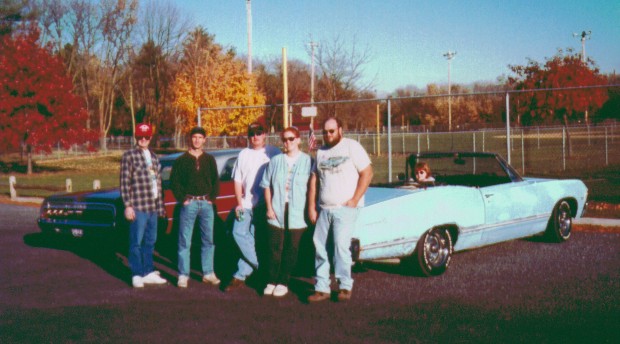 Officers were elected on November 3rd. Pictured above from left to right Dan Summers-Treasurer, Dan Holderness-Vice President, Tom Ward-President, Christine Reedy-Secretary, Travis Reedy-Sergeant at Arms.