The Mid Atlantic Impala Association Presents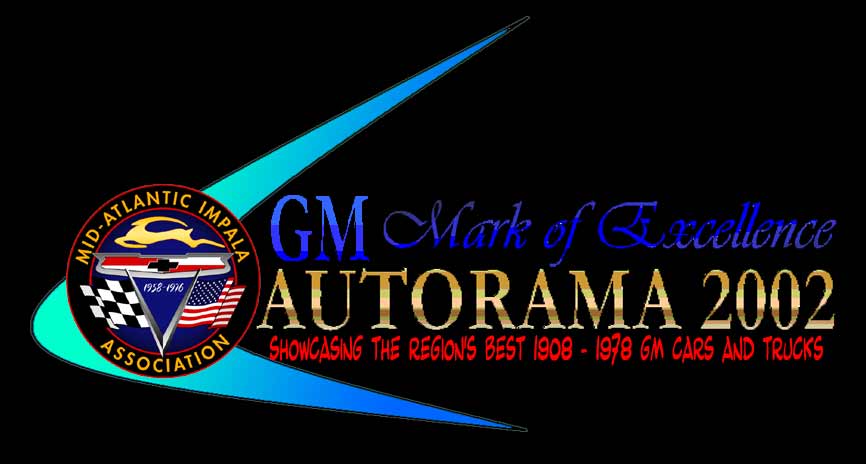 Saturday August 24, 2002
Two Top Ruritan Park
Mercersburg, PA
25 classes of Cars and Trucks
Door Prizes, 50/50, Coloring Contest for the Kids, Food provided by the Ruritan Club,

Music by the Valley Cruisers of Winchester, VA,

Auto Parts Swap Meet, Displays, and more.

Dash Plaques for the first 100 automobiles Arriving the Day of the Show
Special Awards: Best of Show, Oldest Car, Club Participation, Spectators Choice, Longest Drive. BEST: Buick, Cadillac, Chevrolet, Oldsmobile, Pontiac, Truck BEST: Camaro, Corvette, Chevelle, GTO, Firebird, Street Rod / Machine, Compact, MAIA From the Heart Award. (Members Choice) Favorite 1958 -1976 Full Size Chevrolet
FEES: Pre-registered before 8/19/2002 $10 Day of Show $12 (Pre 1918 autos Free)
Vendors Fee: $25.00 - Auto Related Vendors Only Please.
Send registration to: MAIA, 102 Bing Ct., Winchester, VA 22602 For more information call Tom at (540) 664 9273 or Dan at (703) 802 4974 or log on to http://maia58-70.tripod.com or by email to maia58-70@lycos.com
WEATHER Click Today's weather for an up to the minute update on conditions and a detailed forecast for Mercersburg, PA
Directions: (Maps Below)

From South, East, and West: In Maryland, take Interstate 70 to exit 24 (Huyett exit, MD 63) Drive North on MD 63 to US 40 (National Highway) turn left and drive West approximately 2 miles to MD 57. (Just past Hagerstown Speedway) Turn right and go North on MD 57 for 4 miles and turn left on MD 494. (MD 494 will become PA 75 upon crossing the state line into PA) From the MD/PA State line drive approximately 3.5 miles and look for the sign that says Two Top Ruritan Park. Turn left onto Two Top Road and drive .9 miles to the park. (Two Top Park is approximately 10 miles from Exit 24).

From North and North East: I-81 South in PA to (Former Exit 3 Greencastle / Waynesboro PA 16). Drive West on PA 16 until it junctions with PA 75 in Mercersburg, PA. Turn left onto PA 75 and drive south approximately 3 miles look for the signs for Two Top Ruritan Park. Turn right onto Two Top Road drive .9 miles to the park.